The COVID-19 pandemic has drastically changed our way of living and it's been over a year since we've adjusted to working at home and wearing masks.  These measures are necessary to control and reduce the spread of the virus, but there appears to be an emerging increase of dry eyes as a result.
So, what is exactly causing the increasing rates of pandemic-induced dry eye (PDE)? The main theories are abnormal amounts of digital screen time, diet, distress and airflow (DDDA). These changes in our everyday lives are disturbing the homeostasis of the tear film and this imbalance is fueling dryness.
Common dry eye symptoms that have increased include watery eyes, burning eyes, feeling of grittiness in the eyes and eye fatigue. If you are experiencing one or more of these symptoms, you may have PDE. Let's go over the various causes of PDE due to abnormal amounts of DDDA and how you can reduce your dry eye symptoms. 
Digital Screen Time: Increased Amount 
To help combat the reduced blinking rate, remember the 20/20/20 rule. Every 20 minutes, look 20 feet away for 20 seconds. This will give your eyes a digital break and allow you to be mindful to blink. I recommend setting an alarm on your phone to give reminders. 
Another tip is to keep your eye drops near your working area so you can easily reach for them when your eyes are feeling dry. I would also recommend a humidifier to add moisture to your environment and prevent further dryness.
 
Diet: High Inflammatory Diet 
Working at home during the pandemic has some perks. You can be in your pajamas all day, you don't have to commute and you can cook at home! However, some individuals may be ordering in or making meals with little nutritional substance. The common saying, "You are what you eat" holds truth especially in the dry eye world. There are direct impacts on your ocular health if you have a poor diet.
The pandemic has resulted in many people indulging in a  higher than usual inflammatory diet consisting of processed foods, meats and cheese as well as increased caffeine and alcohol consumption. This type of diet increases inflammation and worsens dry eyes. You should drink lots of water for hydration, reduce caffeine intake and stay away from sugary drinks. It's important to address this in your diet and balance your omega-6 intake with increased omega-3 intake.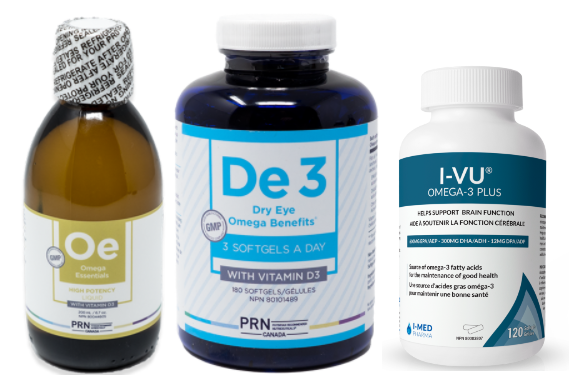 Distress: Rising Levels of Anxiety
To reduce dry eye symptoms associated with rising levels of anxiety, it's vital to get a full 7-8 hours of sleep. When you are asleep, your body is recovering and your eyes need that time to heal. You should also find an activity or hobby that you enjoy to reduce stress levels. Try light exercises such as yoga, meditation or reading a good novel.  Lastly, don't forget to speak to someone if you are experiencing high levels of stress or anxiety. Reach out to a friend, family member or a colleague. We're all in this together and you don't have to suffer alone.
Airflow: Mask Associated Dry Eye (MADE)
Any forceful movement of air into the eye causes the tears to evaporate faster. Imagine being in your car with the air conditioning or heater on high. Within a few minutes, your skin starts to feel dry and your eyes as well. 
If you are suffering from PDE, speak to your dry eye doctor. They are well-equipped and knowledgeable in this specialized field. Contact your nearest MyDryEye clinic and get the help you deserve to reduce your dry eye symptoms. 
Other Posts You Might Like
This blog discusses the potential side effect of dry eyes in individuals taking antidepressant medications. Antidepressants are prescribed to alleviate symptoms of depression and anxiety by altering brain chemical levels. Dry eye disease, characterized by insufficient tear production or compromised tear quality, can cause symptoms like irritation, redness, and blurred vision.
Alcohol is common at social gatherings, casual nights out, or for a celebratory toast for many people. However, it is worth considering the impact of drinking on your body, particularly your eyes. One such consequence of alcohol is dry eyes, which can significantly disrupt eye comfort and overall eye health. 
Although dry eyes themselves don't directly cause headaches, they can worsen the symptoms associated with migraines. This combination can result in increased light sensitivity, shooting pain, and even nausea or dizziness. Finding a dry eye specialist is important to manage dry eyes and mitigate the worsening of migraine symptoms.